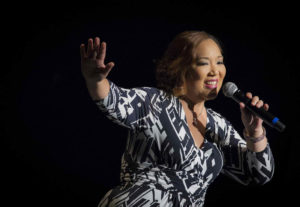 Known in the Filipino-American community as a music teacher, vocalist producer and TV personality, Annie (aka Roxanne Nepomuceno)  is Managing Director of Music Arts Events Inc – the umbrella company of Music Arts Evolution which offers music lessons, and Music Arts Publishing as music publisher. Music Arts Events has expanded in the recent years to include Touring and Marketing of distinguished artists of Filipino lineage in the United States with the Ryan Cayabyab Singers and the world-renown Philippine Madrigal Singers, and LA locals such as jazz artist Mon David, hit songwriter Odette Quesada, and the Harana Men's Chorus, among others. 
Though born in Iowa, Annie built her musical career in the Philippines before her foray into the Filipino-American community of Los Angeles. In between teaching music privately and performing, Annie is passionate about presenting high-calibre Filipino-American Artists and Filipino music, given her background in the Arts. As part of  Philippine Patrons of the Arts USA, she has interfaced extensively with the Los Angeles County Arts Commission, The Ford Foundation, the Valley Performing Arts Center and the Japan America Community Cultural Center.
Annie Nepomuceno has had a connection to the Arts from a very young age.  From singing in children's choir to performing with a prize-winning choral group to her own pop vocal trio, Annie has performed for both Resident Artist and Outreach Programs of the Cultural Center of the Philippines (comparable to Los Angeles' Music Center). Her work ranges from musical theatre such as playing  Lady Thiang in "The King and I" to featured vocalist of the Filipino-American Symphony Orchestra. Annie is a Katha and  Awit Award winner (the Philippine Grammy) for her vocal arrangements.
Annie is also a popular emcee and moderator, who often emcees for the Philippine Consulate Los Angeles, including the visit of Philippine President Benigno S. Aquino's to Los Angeles in February 2016, for the visit of Batangas Governor Dodo Mandanas, the Philippine Ballet Theatre and the 6th Actor's Panel in North Hollywood.
Annie was recently honored with a Small Business Award by the United Chambers of Commerce of the San Fernando Valley, and Citizen of the Year by the Lions LA Synergy Club.
Annie Earned With Distinction, a Certificate in Music Business from the University of California-Los Angeles (UCLA) Extension Program. Annie also holds degree in Musicology and Composition from the University of the Philippines College of Music.
Annie appeared regularly on the TV Show on LA18 "Kababayan Today", and can be frequently seen in concert at the Ford Theatres.
Annie also serves on the Board of Directors of the University of the Philippines Alumni of Greater Los Angeles and is the President-Elect of the  Filipino-American Chamber of Commerce of Greater Los Angeles, serving 2020-2